Professional Photo Editing Software to Modify Pictures Easily
On our website, you can freely download a photo editor. Our portal offers a program for creating photo collages, applying poster effects to your photos, and editing images for smart individuals. The photo editor provides various features, including photo brightening and the ability to insert clipart. We offer numerous photo editing programs with functions like photo blur and photo modification. These applications are commonly found on computer CDs included in PC magazines. If you're seeking a program to edit your pictures, you can easily download free applications here.
By doing so, you can conveniently explore individual photo editing functions before making a purchase. Our photo processing software allows you to enhance your fantastic photographs quickly. Have you ever wondered how to fix red-eye in your photo and create a stunning photo collage? Our professional yet user-friendly photo editor for Windows 10 makes achieving perfect photo enhancements extremely easy! Additionally, our tool offers a wide range of useful effects, such as photo collages, photo mosaics, adding text to photos, and enhancing their overall appearance.
Photo Editing Software to Perfectly Edit Pictures
Amazing photo editor for passionate photographers
Digital photo processing on a PC is primarily used to rectify errors that often occur during photography, including distortions and color inaccuracies. This makes the tool ideal for both novice users and experienced individuals who enjoy editing photos. Take advantage of the photo effects offered by an easy-to-use graphics program when editing your pictures! Different Windows programs specialize in specific functions, while others can be overwhelming and difficult for beginners to navigate.
Free programs are typically found on personal computer websites. If you're seeking an application worth downloading for free, consider freeware or shareware options. Are you interested in photo editing? The software used for photo processing is commonly known as a photo editor.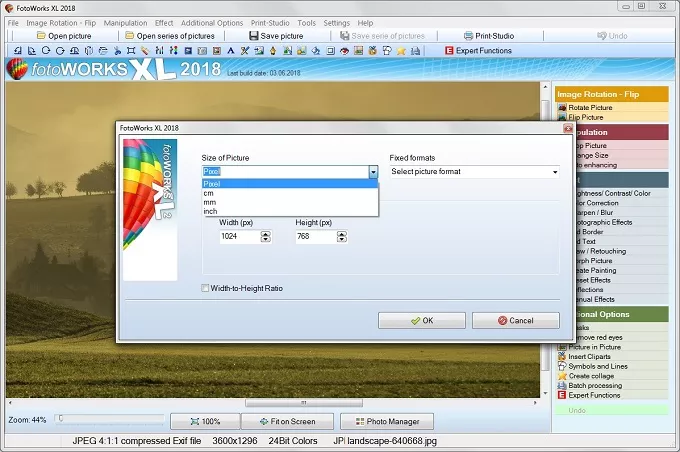 Picture of the photo editing software
When searching the internet for a photo editing application, it's worth trying out a freeware program for testing purposes. This way, you can preview all available photo effects before making a purchase. Before choosing software, it's important to consider which functions are essential to you. Here's a small selection of photo editing effects, such as photo swirling or retouching. At our website, you can download Windows software and try it out indefinitely. Test it yourself! Our program serves as a photo editor for Windows 10, allowing you to edit and enhance your own photos. It covers everything you need for
photo editing software for free
.
With this photo editor, you'll be able to perfect your precious photos in no time. Popular file formats for photo editing include JPEG and TIF. You can find a photo editing program and a photo editor for Windows 8 here. Another potential application of photo editing is the artistic enhancement of photos, including effects like collages, text insertion, and overall improvements. Popular file formats for photo editing include JPEG and TIF. You can find a program for editing photos and an excellent photo editor for Windows 10 here.
Easy-To-Handle Photo Editing Software
There is a wide variety of photo editing programs available that offer features for editing and distorting photos. Occasionally, you can find full versions of these programs on internet portals associated with personal computer magazines. When searching for a photo editing tool online, it is recommended to try out free apps for testing purposes. This allows you to evaluate all the available software photo effects before making a purchase. It's important to have a clear understanding of your expectations from the software when selecting a program.
The software we offer is well-equipped with excellent features, including the ability to print photos in various standard sizes and create stunning photo albums for Windows. It is specifically designed for users who value professional
photo editing software here
that is both easy to use and suitable for beginners due to its versatile functionality. One of the special benefits of our software is its simple menu, which contributes to its user-friendliness.
It should be noted that such photo editing programs are primarily used to enhance digital photos, but they can also serve as drawing tools. Users searching for photo editing software
https://franziphotos-67.webself.net/
on the web often use keywords like "photo editing software" or "edit photos for free." A software tool used for graphic editing is commonly referred to as photo editing software. This
https://michaellikata.home.blog/
photo editing software for Windows provides numerous editing functions that are typically organized within a program menu and toolbar. These functions are particularly useful for correcting issues such as insufficient sharpness or other deficiencies in photographs.
Sometimes, you can obtain this special photo editing software
This photo editor for Windows 10
for free, making it a popular choice among users. The possibilities for editing photos are diverse, but they can sometimes be challenging due to users' lack of program knowledge. Another area where photo editing finds application is in the stylish modification of photographs. This includes applying artistic photo effects such as collages, editing, text insertion, and photo blurring. There are various popular photo formats suitable for photo editing.